Ode Chef Yusuke Namai Creates Stunning Seasonal Shirin Pairing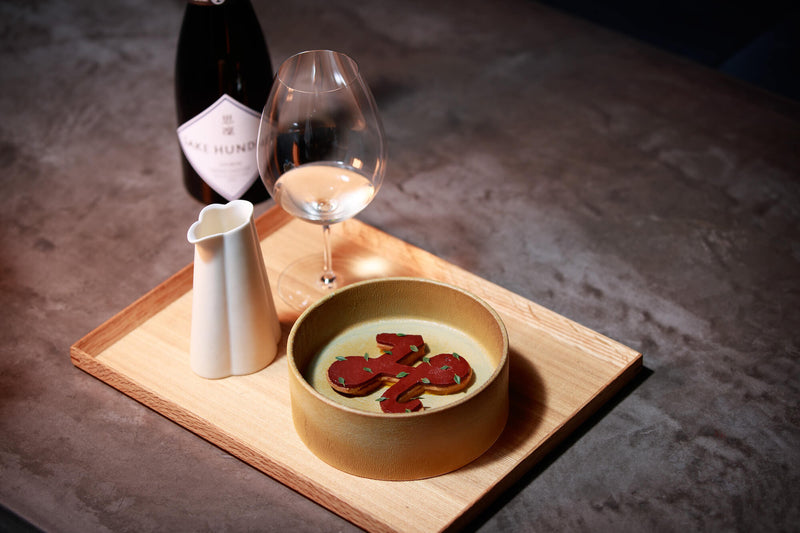 Sake is great on its own, but a skillful pairing can elevate both sake and dish while unlocking a world of culinary possibilities. Recently,Chef Yusuke Namai of "Asia's 50 Best Restaurants" inductee Ode lent his considerable skill in designing one such pairing for Shirin, SAKE HUNDRED's newest addition.

Shirin, a unique sake offering rested in oak casks, brings a coveted 18% polish ratio and a smoky yet ethereal oak aroma. These distinctive characteristics presented Chef Namai boundless opportunity to explore new gastronomic takes in designing his pairing.

Chef Namai, though, is a celebrated risk-taker in the culinary world and a natural fit for the task of unlocking Shirin's potential through food. Namai's restaurant, Ode, began life in 2017 and has quickly amassed global praise, a Michelin star, and a legion of adoring fans who come back time and again to see what this visionary chef comes up with next.
Shirin with Pumpkin, Boudin Noir and Vanilla
The chef's Shirin pairing creation is a feast for the senses. Hokkaido kabocha pumpkin, aged for a month, is pureed and doused over a bed of boudin noir and sablé shortbread in this eye-catching tart. The puree, thick and rich, incorporates the dried and boiled seeds of the kabocha with butter for a pronounced sweetness that elevates the flavor of pumpkin and the crisp snap of sablé in a dish that amply spotlights its individual ingredients.

To imbibe Shirin along with this inventive tart is to unlock its essence, the roasty flavors of thyme complementing Shirin's textural oak barrel aroma, with the drink's emerging creaminess blending with the sweet and smooth kabocha puree.
In the Words of the Chef
"Shirin is a bedazzling beverage that puts me in the mood to think about the art of cooking. I found it impressive the way Shirin's oak barrel notes, the sweetness derived from its polishing ratio, and its subtle alcoholic bite seem to evolve with every mouthful. Each sip revealed a new facet of its character, to the point that I finished the bottle while exploring its nuances," Namai says.

"In fact, I agonized over the concept for this dish until the night before its creation. Initially, I'd planned to go with something incorporating a powdered concoction of herbs and aromatics recalling cedar, with the intent of matching Shirin's 'foresty' characteristics.

"In the end, I wasn't satisfied with the directness of that approach. Instead, my mind went to the delicate textures of fluffy eggs, the subtle sweetness of vanilla and the gentle warmth of melted butter — all of which complement Shirin's creamy and delectable flavors."
With Shirin's oak-derived smoky aroma its most distinctive and touted feature, it would be only natural to lean into this characteristic when devising a food pairing — and perhaps other chefs would.

Chef Namai, however, has chosen instead to highlight Shirin's creamy texture with this peerless tart creation, introducing a novel approach with which to explore the drink's multifaceted character.

Truly, a surprising concept from a unique chef, built for a sake like no other.
このページをシェアする