"Blooms" Outdoor Art Series Embodies SAKE HUNDRED's Promise of Fulfilling Sake Experiences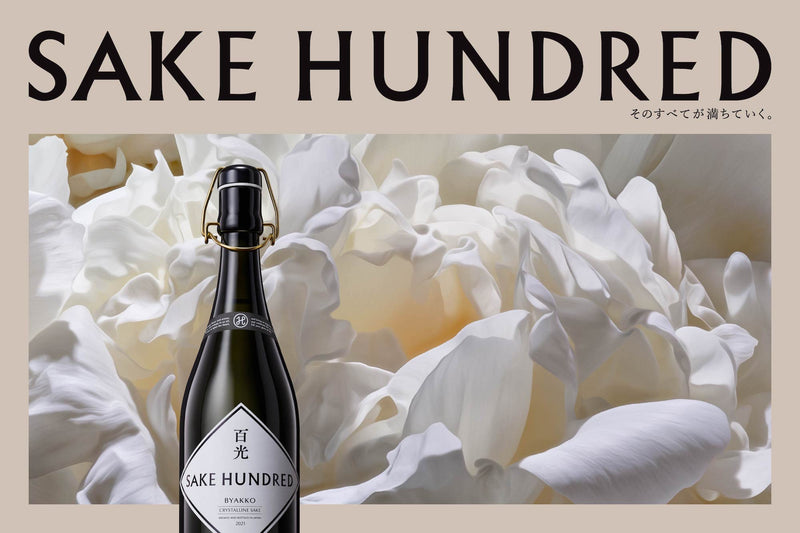 SAKE HUNDRED fans visiting Tokyo's popular and sophisticated Omotesando district may be surprised to find some familiar and intriguing new sights: Brand new outdoor signage featuring many of SAKE HUNDRED's prestigious sake labels.
Titled "Blooms," this series of images is intended to capture the essence of the SAKE HUNDRED brand ethos: Fill your glass of life.

The SAKE HUNDRED brand has striven from its inception to deliver on this promise, not only through delicious sake flavors, but also through captivating and emotionally fulfilling sake experiences and the human connections that sake facilitates.
"Blooms," through a series of simple yet entrancing images of flowers in bloom, is designed to recall the swelling satisfaction of a heart filled with joy. The pieces depict live flowers representing abundance and vitality, artfully expressing in images SAKE HUNDRED's goal of enriching lives through sake.

By foregoing typical "scenes of sake" — tables and chairs, sake extravagantly poured from bottles — "Blooms" focuses in on the emotional fulfillment experienced through sake, and leaves the viewer to conjure their ideal sake scene as they please.
Of course, SAKE HUNDRED delivers the pinnacle of sake quality as a matter of course. But we also believe that creative and emotional storytelling through images such as those depicted in "Blooms" is a crucial element for establishing a brand that fills the heart and enriches the mind and spirit.

We seek to bring our customers into such a world, from the online shopping experience to the moment your sake arrives at your door.
At SAKE HUNDRED, we are proud and excited to share with our fans the artful and captivating visuals of "Blooms," our first ever outdoor promotion. We hope you enjoy it too, and find that it fills your heart, and colors your life.
このページをシェアする