Where to Enjoy SAKE HUNDRED: Four Renowned Restaurants Offering Quality, Atmosphere and the World's Best Luxury Sake Brand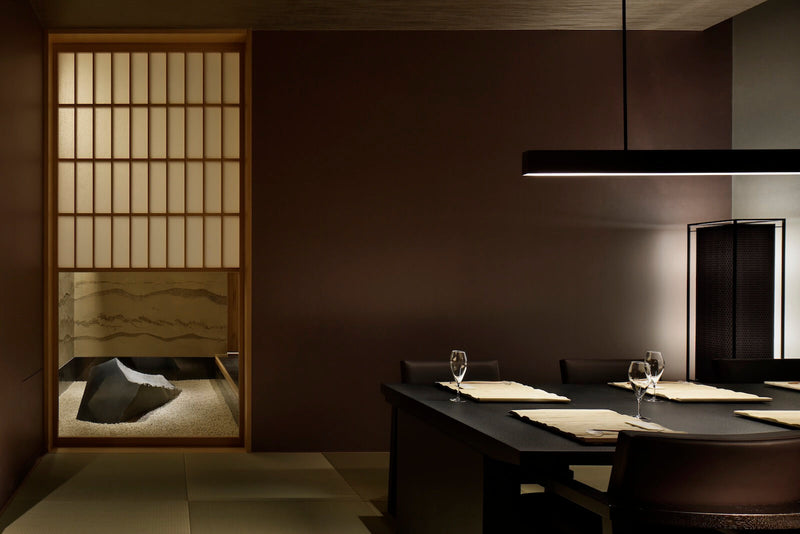 A bottle of SAKE HUNDRED is just a click away for drink enthusiasts via our retail website. But, for the adventurous, the travel hungry, and connoisseurs of quality cuisine, SAKE HUNDRED additionally graces the menus of an elite few world-class hotels and restaurants.

Below, we've highlighted four of these outstanding venues:
Musashi by Aman, Aman Tokyo (Otemachi, Tokyo)
Aman Tokyo resides on the top six floors of the Otemachi Tower in the heart of Tokyo. A tranquil reprieve from the cantankerous bustle of the city below, Aman is a pioneer in the concept of urban resort luxury.

Inside, the lauded sushi restaurant Musashi by Aman offers SAKE HUNDRED alongside authentic traditional sushi platings.

Something of a prodigy since entering the culinary world at 18, decorated chef Hiroyuki Musashi emphasizes regional tradition and culture in his role at Musashi by Aman and pairs his edomae sushi with fitting sake selections.

Musashi by Aman offers SAKE HUNDRED's flagship Byakko, selected for its compatibility with both the dishes served and the restaurant's ethos.
A Word from Musashi by Aman
"We set out to create the greatest sake list in the world. In composing this prestigious menu, we deliberately sought out Byakko as one of the beverages we knew must be included. Fittingly, our first delivery of Byakko arrived on a particularly bright and sunny day.

Byakko's vibrant, rich and subtly bitter flavors remind one of Alsace wines, while stone fruit notes come through in a buttery and assertive sweetness. It certainly leaves an impression.

On our menu, Byakko pairs brilliantly with sekogani crab and tomalley gelee, or tiger prawn nigiri. Byakko is truly a sensation when matched with shellfish."

Musashi by Aman
Homepage
Hoshinoya Tokyo (Otemachi, Tokyo)
Pursuing an elevated ideal of traditional Japanese luxury, Hoshinoya Tokyo is an oasis of opulent tranquility, fashioned after ryokan resorts of old, nestled in the center of Tokyo's electric urban cityscape.

Hoshinoya's dining room is accessible only to hotel guests, and offers SAKE HUNDRED paired with resplendent dishes showcasing Japan's four distinct seasons.

The dining room's international award-winning chef, Noriyuki Hamada, is said to be the world's premier seafood master, and brings a Japanese flair and rigorously selected local ingredients to his take on French cuisine.

SAKE HUNDRED's Amairo is on offer at Hoshinoya, chosen for its elevated flavors and compatibility with the hotel's concept.
A Word from Hoshinoya Tokyo
"We were struck by the overlap in SAKE HUNDRED's concept and the experience we strive to deliver to our guests every day.

SAKE HUNDRED delivers not only essential sake flavors but additionally aims to create an atmosphere all its own and bring new value to sake. We at Hoshinoya likewise wish to bring delightful culinary flavors, but also to pair this with fitting beverages, service and ambiance for an unforgettable experience. The clear synergy in concepts attracted us to SAKE HUNDRED and we are proud to serve it in the name of delivering an inspiring experience to our guests.

Amairo's rich and amorous sweetness is followed with a pleasing tartness that spreads on the tongue. These characteristics make it a recommended match for similar 'sweet and sour' items, such as grapes and plums."

Hoshinoya Tokyo
Homepage
(Note: Dining room available to hotel guests only)
Miyasaka (Minami-Aoyama, Tokyo)
A 7-minute walk from trendy Omotesando, Miyasaka serves stellar Japanese cuisine from an unassuming basement venue in a quiet residential enclave.

Miyasaka enjoys two Michelin stars despite its secluded location, and strives to present the soul of Japanese cooking — fuss-free, immune to trendy fads and featuring the finest seasonal ingredients. Unsurprisingly, Miyasaka takes pride in its sake menu, where SAKE HUNDRED has earned a coveted spot.

Chef-owner Nobuo Miyasaka cut his teeth in Tokyo before moving to Kyoto to perfect his approach to the difficult and deeply traditional kaiseki banquet style of cuisine. It's thanks to this experience that Miyasaka is able to serve omakase chef's choice platings with a deft hand.

Miyasaka recently deemed Byakko a fitting addition to his lauded restaurant's sake list, in particular after seeing the SAKE HUNDRED beverage gain recognition in the sought-after national Tabelog Awards.
A Word from Miyasaka
"I felt a deep connection with SAKE HUNDRED in relation to its brand ethos and its challenger spirit. I have a lot of respect for those willing to confront challenges, and SAKE HUNDRED is doing just that in its approach to the traditional field of sake."

Miyasaka
Tsukiji Jisaku (Tsukiji, Tokyo)
Tsukijiki Jisaku is a stately and storied traditional restaurant in operation since 1931.

Housed in the former estate of industrial-era mogul and founder of Mitsubishi, Yataro Iwasaki, Tsukiji Jisaku sits on a sprawling 2,644-square meter property and boasts a gorgeously kempt inner garden that showcases Japan's distinct seasons year-round. The establishment specializes in traditional Japanese luxury cuisine.

Tsukiji Jisaku serves SAKE HUNDRED's Byakko, Byakko Bespoke and Shirin, granting it the most expensive SAKE HUNDRED menu on this list. The establishment has chosen to stock SAKE HUNDRED products in part for their compatibility with traditional kaiseki dining and the restaurant's signature mizutaki dish.
A Word from Tsukiji Jisaku
"At Tsukiji Jisaku, we recently celebrated our 90th year in operation. We pride ourselves as an establishment that our guests can depend on for the highest quality food, drinks and service.

In truth, we first learned of SAKE HUNDRED on the internet. We are always on the lookout for the best drinks available to serve to our guests, and we became enamored with SAKE HUNDRED from the very aura it projected.

Specializing in Japanese cuisine as we do, Tsukiji Jisaku is very particular about its sake menu. Even among our other prestigious sake labels, we knew SAKE HUNDRED's products had the potential for an explosive reception.

We offer kaiseki courses, mizutaki, sukiyaki, tempura, shabu shabu and many other classics. We recommend guests sample Byakko, served chilled, together with our mizutaki dishes. The way Byakko's sophisticated flavors evolve as the bottle warms to room temperature at the table presents a uniquely enjoyable dining experience."

Tsukiji Jisaku
Homepage
Quality Food and Ambiance, Made Perfect with Superlative Sake
The most enriching sake experience comes with great food and ambiance. For this reason, SAKE HUNDRED partners only with the highest class of restaurants and purveyors to serve our products. We encourage you to sample SAKE HUNDRED at any of these prestigious venues for the quintessential sake experience.

*Please check SAKE HUNDRED availability at the above venues before visiting
このページをシェアする